Fixed Appliances, otherwise known as "train tracks" are the most commonly used and recognised type of braces today.
These braces are bonded onto the teeth using a composite adhesive and tied in place using a composite adhesive and tied in place using nickel titanium and stainless steel wires. Here at Waterford Orthodontics, we use stainless steel brackets for our younger patients.
They are strong and robust and can be decorated with different colours for fun. Where possible, we offer the more discreet ceramic/tooth coloured brackets for our adult patients.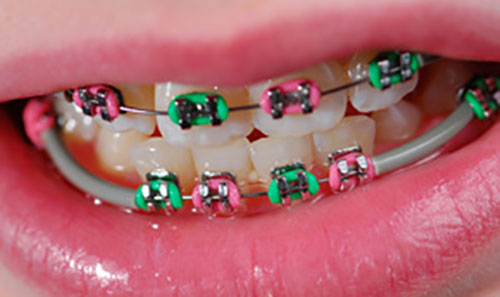 This type of fixed appliance is suitable for patients of any age but is mostly preferred by children and teenagers. The main parts of your fixed appliance or 'train-track' brace are;
Brackets
Archwire
Modules
The brackets are glued to each tooth. The archwire threads between all of the brackets and is held in place with tiny elastics called modules, which come in all kinds of different colours. We start with the most gentle archwire and gradually move your teeth into their final positions.
---
More Information
Find out more about Fixed Appliances – Download
---